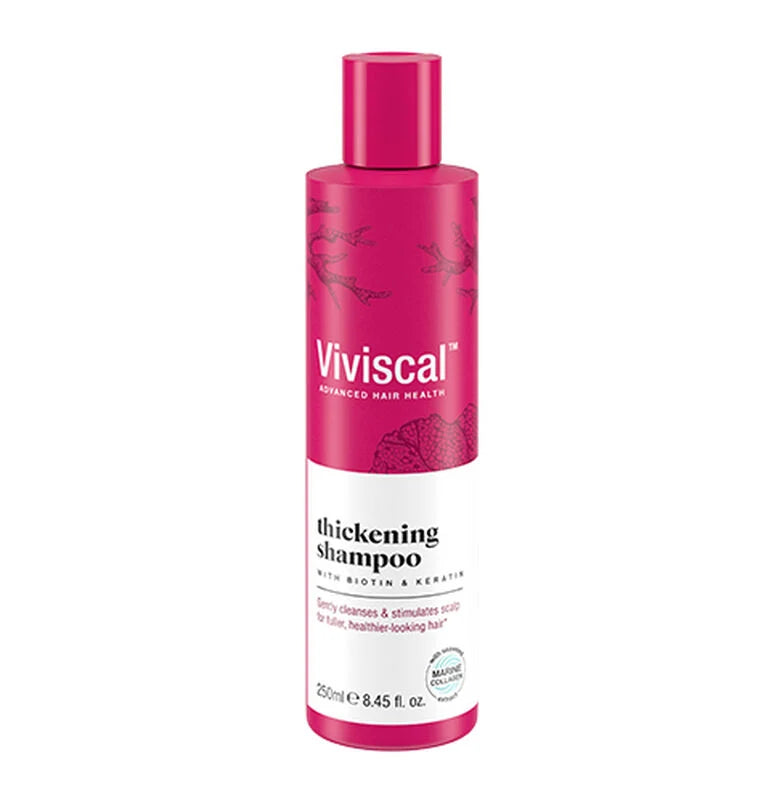 Now with marine collagen and seaweed extract, Viviscal Thickening Shampoo gently cleanses and stimulates the scalp for fuller, healthier looking hair
Price reduced from

$13.00

to
$11.70
---
Sign up for subscription, receive free shipping on all shipments.
---
Key Benefits:
Strengthens hair & reduces breakage±
Promotes thicker looking hair
Suitable for all hair types
Cleanses and stimulates the scalp

±Use in conjunction with Viviscal Thickening Conditioner
Product Details
Viviscal Thickening Shampoo gently cleanses the hair and scalp, leaving your hair looking fuller, thicker and healthier-looking. Our floral fresh signature fragrance, infused with lush greens, dewy florals, and hints of ocean breeze, leaves hair infused with a refreshing scent that lasts. Viviscal Thickening Shampoo promotes gorgeous hair and includes seaweed, marine collagen, biotin, and keratin.
Viviscal Thickening Shampoo
Now made with Marine Collagen and Seaweed Extract and a new lush floral fresh scent to supplement your hair care regimen.
Yes, the packaging is the same size.
Use this shampoo on wet hair, massage from scalp to ends, then rinse. Repeat if necessary. Follow with Viviscal Strengthening Conditioner for best results.
Yes, Viviscal Thickening Shampoo is suitable for everyday use.
Yes, Viviscal's Thickening Shampoo is free from parabens. It is also free from sodium lauryl sulfate (SLS), EDTA, polyethylene glycols (PEGS's) and sodium laureth sulfate (SLES).
Related Articles
Choosing the Best Hair Thickening Shampoo
June 27, 2019
If you want thicker, fuller-looking hair, it's important to select a shampoo formulated to nourish and volumize fine or thinning hair. But with so many hair thickening shampoos on the market, how do you know what to look for? Keep reading for our complete guide to hair thickening shampoos that make your hair look volumized […]
The Importance of Shampooing Hair Properly
February 23, 2017
We don't think too much about shampooing because we've been doing it forever. We have some general knowledge about the importance of shampooing your hair, but that doesn't mean we're all doing it right.
How Often Do You Need to Wash Your Hair?
February 27, 2017
How often do you think is healthy to wash your hair with shampoo? The truth about how often you should wash your hair is controversial. As science has uncovered the negative effects of certain chemicals often included in shampoos, hair washing has become vilified. Certainly, over-washing with the wrong products can damage hair, but is […]
---